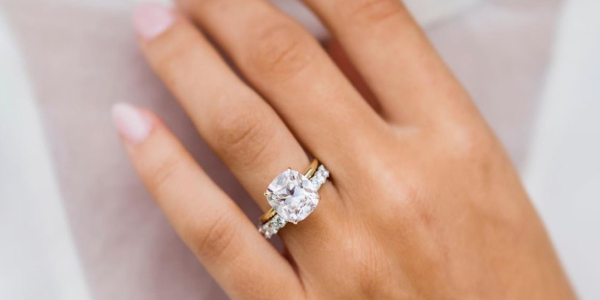 Whether you admit it or not, pretty and shiny things draw us in, and if they are diamond studded engagement rings there will be no two thoughts about taking a sneak peek into the current trend. You may not even be close to planning a wedding, however just glancing through the intricate designs of engagement rings will give you an induced rush! Whether you are choosing a ring for your own engagement or to match the heartfelt proposal, you always want to keep up with the current trends
Let's look at some engagement ring trends for inspiration.
Emerald Cut
Today's brides are non-traditional and are moving away from the traditional round diamonds to fancy looking bigger diamond shapes like radiants, emeralds and oval. However, emeralds are trending more popularly for they are sophisticated, chic and modern at the same time.
Floral
A simple band with floral halo gives a unique and feminine look without losing it's vintage feel . This style, if paired with a bright sapphire rather than the traditional diamond will make a beautiful pick for the bride to be. This trend is slowly catching up and will see an up rise in the coming years of wedding seasons globally.
Explore More About : The Top 5 Diamond Jewelry And Engagement Rings Of The Year 2019
Three Stones
Prince Harry's heartfelt proposal to Meghan Markle with a three stone engagement ring instantly put this style in forefront of the engagement ring trends. This style now boasts of representing the past, present and future making it stronger in market styles varying from classic to contemporary. This style allows creativity by incorporating shapes, size and colour in the design. The two side stones on the ring simply add to the sparkle of that ring.
Vintage & Art Deco
Some trends are about comebacks, thanks to the royal families across the world who contribute to that trend. Vintage designs and art decos have been making a serious comeback. However, the brides are opting for contemporary rings which can be customized rather than the vintage ring from a period. For the Art Deco motifs clean bold lines and geometric patterns are the source of inspiration.
Oval Cut
Ovals are a beautiful option, they are elongated and soft and are the best of both worlds when it comes to round shape or the big look. Every woman wants an oval making it the most sought for and designers feel the shortage for the same in the industry. The surge for this design is due to celebrities flaunting this design making it a trend.