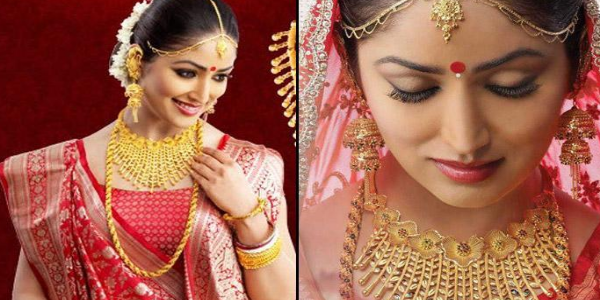 When you think of an Indian wedding, the first thought that comes to mind is colourful followed by gold jewellery. Indians are famous all over the world for their penchant to wear plenty of gold ornaments during the wedding events. In fact, a classic Indian wedding is said to be incomplete without bright colours, good food, music and gold jewellery. Although brides and grooms have a say in how the wedding will be held, they seldom seem to depart from the norm of plenty of gold ornaments for the wedding The bride and the guests alike like to adorn themselves in sparkly gold ornaments that will give even the celestial stars a run for their money.
If you are still wondering why Indians place so much importance on gold jewellery, here are a few pointers:
Gold is believed to bring forth the blessings of the Goddess Lakshmi on the newly wedded couple on their special day. This religious belief causes many Indian brides to make sure she wears gold to avoid missing out on getting these special blessings.

The security offered by gold is one of the reasons why the bride's parents ensure that their little girls have plenty of it. This way, the new couple can have an easy start in their new life together as one.

The way gold sparkle is more than enough motivation for a bride to pick out fabulous pieces of gold jewellery for her special day.
Explore More About : Pleasing News For All The People Waited To Sell Gold
Since gold is considered to be an auspicious metal in the Indian subcontinent, even the guests at the wedding will adorn themselves with their favourite gold trinkets. This is one of the reasons why jewelleries do plenty of brisk business in India. With new designs and patterns emerging every season, Indians are spoilt for choice these days. Since the price of gold seems to be considerably soaring these days, many people also consider it as a good way to invest their hard earned money.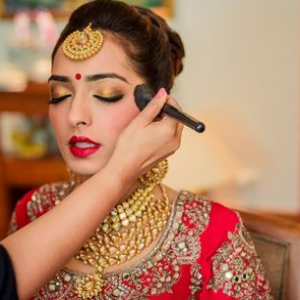 Getting ready for the wedding requires plenty of attention to detail. The bride needs to pay extra attention to her wedding look and every factor associated with it. Many brides book a Bridal Makeup Artist as soon as the wedding date is fixed to ensure that they have extra help to look drop dead gorgeous on their special day . According to the experts www.culturalindia.net/jewellery/significance.html, the bride is often the show stopper at every wedding party regardless of country or continent. There are several professional salons that offer bridal service packages to make sure that the bride looks her best.
With gold prices being pretty high these days, many parents start saving up from the day their little girls are born. However, today's generation of brides have also started working and earning before getting married. They are more than happy to help out their parents while investing in gold ornaments for the wedding. At the end of the day, gold ornaments and Indian weddings have a cosmic connection that is hard to explain. After all, this tradition has survived many centuries till date.