Antique jewellery passed on from a bygone era is a treasure in itself. Many families keep their precious jewellery safe and secure in the hopes of passing it on to the next generation. As time passes by, these adored pieces of jewellery become antiques in the modern world. The emotions and blessings attached to each of these valuable pieces add sentimental value to the ornaments. In fact, many modern brides these days prefer to wear antique jewellery on their special day. Let's take a look at some of the popularly seen antique jewellery designs:
· Antique Bridal Necklace
In the earlier years, Kings and Queens used to wear large necklaces made from pure gold. Since gold represents class, royalty and grace all rolled in one; it was one of the most preferred metals for making jewellery. The antique bridal necklaces of today share a similar pattern to the earlier days. According to the top Event Management Companies, most modern brides prefer to wear an antique bridal necklace for the main wedding event. According to the experts at www.thehindubusinessline.com/news/hallmarking-of-gold-jewellery-to-be-made-compulsory-from-jan/article9940910.ece, several jewellers these days create antique looking designs that are light weight and is perfect for special occasions like weddings. In fact, event management companies organize great trade shows where you can find the best antique jewellery which matches your taste.
Explore More About : Latest Diamond Earring Designs | Diamond Ear Studs Designs | Small Stud Earrings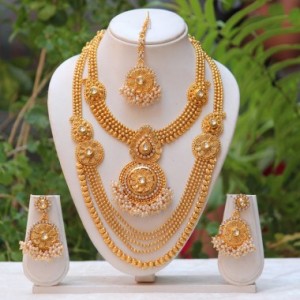 · Antique Polki Stones Jewellery
Polki stones can be defined as uncut diamonds that are mined and used in jewellery without being cut further. Although polka stones have a raw look, they are quite expensive and valuable. Royal families in the olden days used to wear plenty of ornaments set with polka stones. Even today, antique jewellery set with polka stones command a very high price in the market. If you have been lucky enough to inherit a jewellery set with polka stones, make sure you cherish it and use it carefully. Don't forget to keep it safe for the next generation.
· Antique Kundan Jewellery
Kundan sets are very popular these days. They come in pretty colours like green, red and maroon which can complement any wedding outfit. Kundan jewellery takes a lot of craftsmanship to get it looking perfect. Many brides these days prefer to wear kundan jewellery for wedding events like mehendi and sangeet to get a more vibrant look.
· Antique Temple Jewellery
Antique temple jewellery consists of patterns that include images of Gods and Goddesses from Hindu mythology. They have made a huge comeback these days and are often endorsed by celebrities as well. The breathtakingly beautiful designs have become so popular that jewellers have started creating several different innovative temple jewellery designs that have a contemporary angle as well. This allows the younger generation to get in touch with their spiritual side also.
· Antique Ruby Necklace
Ruby stones were used in jewellery many years ago. This is why many antique jewellery ornaments are often set with precious ruby stones. The deep red colour of rubies is perfect for a wedding. Since antique ruby necklaces are often large and heavy, they are worn alone without any other accompanying necklace.