Jewellery trends keep changing and this year is no different. Women are fans of jewelry is an open secret, but of late men, men too are catching up and are looking to accessorize their looks. This season accessory is the key according to designers and experts in the industry. Checking out the latest trends is also a great way to update your wardrobe, and even give it a fresh look. Here is a list of trends that you will see more often as the season rolls on.
Hoops and shoulder-skimming earrings: The overtly big hoop earrings are making its comeback this year, but this time the shape is a little different, it is asymmetrical. The look on your ears is akin to wearing two different earrings after losing one of them. Many retailers are working on various versions of this, and you can hope to see them soon in a jewelry store. Many designers are specialists in mismatched earrings transforming your ear into a piece of art. It is going to be all about ears this year as per industry insiders. Dress your earlobe with drops that will touch your shoulders, this trend will look better with a cocktail dress, but with specific designs, you can also get more sober daytime looks too.
Explore More About : Recent Trend In Jewel Making Industry
Green is the color of this season: 2018 is more about going green, you can take it literally as well as regarding jewelry trends. Green or certain shades of green like the Avocado Green is going to be the next pink. The lime shades are also popular in this spring's collections. You could think that a green revolution is going on as you can find great jewelry designs which include the bright Oloves peridots and emeralds.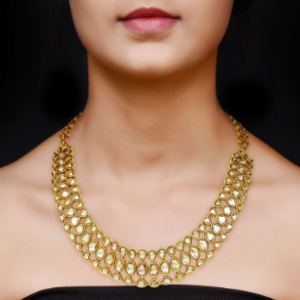 XL Necklines: Long thin necklaces with pendants reaching the navel is hot this year. Swingers continue to lead the trend with its clusters in long chains. The beautiful multi-sided medallions can also be an option but all said, the long pendants are favorite. The reason for its popularity is the versatility it gives as it can be worn during the day on your casuals as well as carried off on an evening gown with a low cut.
You can also opt for a multi-layered necklace. It will have a choker or short chain along with two long chains; it has a vast varied of a collection with different styles making it impossible to own just one.
Pearls: No, it is not the traditional pearl set with button earrings, this too has had a transformation. Many designers have made some fresh and sophisticated designs that can seamlessly gel with gold or diamonds. You can also find designs like drop earrings, bracelets. Chokers all made with pearl but finished with silk ribbon. If you want the over the top look, you also have a hat which is embellished with pearls.
Midi rings: These rings for all your fingers are available, with some jewelry brands providing pinky rings made of brass. You can wear it on any finger you like, but when you add a rustic gold look to it, your outfit will look vintage.